Results
Boys and Their Toys
This weekend's working party had Keith Thomas recording the events with his own asides.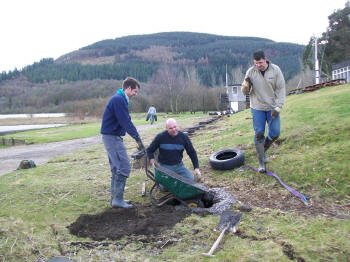 Stephen Kirkpatrick shows concentration putting the barrow
in the hole instead of the concrete. Toggle tells him off and
and Scumper obviously is keeping well clear
Neil, Alan and Andy Smith busy with cement mixer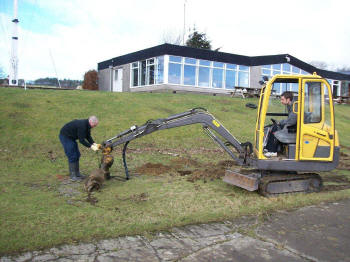 Andy T and Phil show serious concentration whilst digging the holes
House Working Party
I would like to say a huge thank you to everyone who has helped this weekend to repaint much of the clubhouse. A massive amount has been achieved.
For those who weren't able to come along, please don't feel guilty as another day will be arranged in the next few weeks to finish a few things off, followed by an outside working party before the start of the season.
Watch this space for arrangements.
Thanks once again.
Stephen
Thomas is Twittering Again
Neil and Emma living the high life
Alan Nicholson getting a stiff neck
Commodore shows how to do it, roller in
one hand paintbrush in the other !
Ken Bell isn't stealing the tractor
but preparing to service it for next season
A blues festival, the culprits caught in the act
Robbie D finds it thirsty work
Winter Walk
This year's walk was very well attended with over 30 people venturing out on a variety of routes over and around Sale Fell. There was the so called easy route for those with children and prams, but even was abut five miles and took three hours. The energetic route took the walkers over Sale Fell, and they arrived back at the club slightly before the others. However, they left enough of the hot chocolate on offer for the rest of the walkers! After a picnic lunch, it was time for more of a natter and then home.
Sad News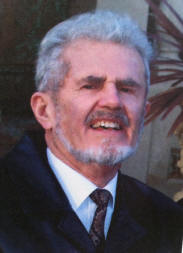 It is with sadness we have learnt that Mike Turner recently passed away after bravely fighting a long illness. He set himself, and successfully completed, various challenges over the last couple of years including completing a mile and a half swim for charity. Mike has been a member for more than 35 years. Our thoughts are with his wife, children and grand children at this sad time.

Mike's funeral took place on Friday 21st January in the woodland burial site chapel, Carlisle Cemetery.

Also, we have been informed that former member (from 1970s) John Parnaby recently died suddenly. He leaves a wife and children.
AGM
The 59th Annual General Meeting was held in the Clubhouse on Sunday 28th December 2010 and attended by approx 20 members.
The various reports circulated with the notice of the meeting were received, and the audited accounts adopted. It was noted that the accounts had not been circulated to all members, but agreed that they would be circulated to the membership in future years with the notice of AGM.
After some discussion, it was agreed, with a significant majority, that the subscription rates should all be increased by 3% (rounded up to the next whole pound).
The following members were elected on to Council.
Commodore - Stephen Kirkpatrick
Vice-Commodore - Andy Smith
Secretary - Pauline Nicholson
Treasurer - Neil Garrison
Sailing Secretary - Roy Blackburn
Rear Commodore - Dave Nicholson
Asst Sailing Secretary - Naomi Smith
Bar - Gary Mansell
Boats & Buoys - Dave Todhunter
Galley - Becky Dawson
Grounds & Jetties - Mark Somerville
House - Alan Jones
Membership - Dave Lawson
PRO - Mik Chappell
Training - Mike Fairlamb
Safety - Emma Williams
Social - Andrea Kirkpatrick
Youth Squad - Des Wright

Fleet Captains
Flying 15 - Ian Preston
GP14 - Val Bell
Laser - Sam Hall
Mirror - Mik Chappell
Handicap - Robin Dawson
Topper - Ethan Dawson