Youth Squad
Welcome : News : Help : Calendar : Bassenthwaite School : Race Info : Prizes : Picture Gallery
---
News 2008
Youth Squad Prize Giving
As a prelude to the bonfire night celebrations, the first prize giving for the youth squad was held this evening
Vice Commodore Dave Nicholson gave a short speech outlining the (short) history of the squad, and prizes were given out by his wife Pauline. There was one consistent and outstanding winner for the season, Jo Watkins who won the Kirkpatrick Prize (Youth Championship winner), Watson Shield (Saturday Series), Rhonwen Bryce Youth Cup (Sunday Series), Night Jar A Youth Tankard, and Night Jar B Youth Tankard (Thursday evening series)
The Lucca Trophy an endeavour trophy for the young person that was always down here practising and racing went to Ethan Dawson
RYA Regatta
We had our Mini Regatta at Derwentwater which was an adventure what with the strong winds and freezing temperatures! The kids did really well just to go out and most seemed to love the experience and are hoping for more of these events next year. I am very pleased to report that our Bass boy JAMES SPRINGELL beat the rather cocky Keswickians in the only race sailing a battered Pico!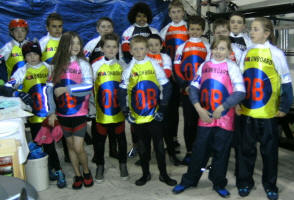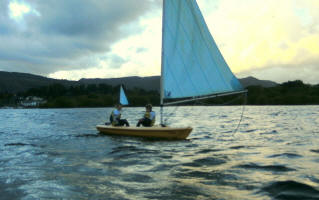 Prize Giving
The first prize giving for the Youth Squad will be held at 6.30pm on Bonfire Night (8th November). Make sure you're there because you'll never be certain what wacky reasons
July 08 - Club Badged Clothing
We now seemed to have settled on a set of club clothing that members can order.
Firstly the Youth Squad of course, who now have their own "hoodies" which have proved very popular with more than 30 youngsters now the proud owners of one !
Although I have had several requests from adults these are still for the "Youth Squad" ONLY as agreed in the January meeting!!
Secondly, clothing for adults.
Members can order the items below.
Download and print off this page and post to :- Caroline Craig , Brook Cottage, Sunderland, nr Cockermouth CA13 9SS together with cheque made payable to Bassenthwaite SC
ADULT FLEECE GILET ORDER FORM ORDERS 1st MONTHLY
NAVY FLEECE GILET £20

100% Polyester (Spill resistant)

SIZE CHEST

TICK

XS 35"

S 38"

M 41"

L 44"

XL 47"

XXL 50"
ADULT DRILL SHIRT ORDER FORM ORDERS 1st MONTHLY
NAVY DRILL SHIRT £25

100% Cotton drill

SIZE CHEST

TICK

XS 32"

S 34/36"

M 37/39"

L 40/42"

XL 43/45"

XXL 46/48"
ADULT POLO SHIRT ORDER FORM ORDERS 1st MONTHLY
YOUR NAME.…………………………Contact phone/email .…………
Cheque "Bassenthwaite Sailing Club" MUST be with order please
ownload
order form
WHITE POLO SHIRT £16

100% Cotton Pique

SIZE CHEST

TICK

S 36"

M 38/40"

L 42"

XL 44/46"

XXL 48"
Hoodies
YOUTH SQUAD HOODIES Want to order one ?
Then download this form and post with cheque to:- Caroline Craig , Brook Cottage, Sunderland, nr Cockermouth CA13 9SS
Any queries email :- Trevor.craig2@btinternet.com
YOUTH SQUAD "HOODIE" ORDER FORM - ORDERS 1st MONTHLY
YOUR NAME.…………………………Contact phone/email .…………
Cheque "Bassenthwaite Sailing Club" MUST be with order please
Tick box below for your size, noting that for chest size 34" and above there is a choice of material and therefore cost.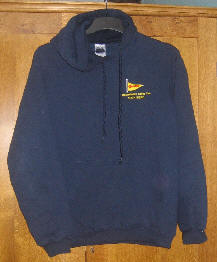 JUNIORS

50% POLYESTER

50% COTTON £18

SML age 5-6

26/28" chest

MED age 7-8

30/32"chest

LGE age 9-11

34/36" chest

XL age 12-13

38/40" chest
SENIORS

20% POLYESTER

80% COTTON £20

SML

34/36" chest

MED

38/40" chest

LGE

42/44" chest
Wii Challenge!
Tonight's the night that the Youth Squad put their sensory skills to the test..
With 20 entrants, and several rounds of ten pin bowling, it took some time to find the eventual winner, although some say it luked fairly obvious from the start! Not surprisingly it was Luke that streaked ahead and won by a good margin
Youth Squad Ten Pin Bowling Night
Friday 2nd May was the first 'Youth Squad Social Event,' we went Ten Pin Bowling at Workington.
Although the turnout was low we all had a great time. We had a buffet followed by a game of Ten Pin Bowling, The kids bowled on one lane and the adults that came used another.
After an hour's bowling the overall winner was Connor Wright with Shelby Tyson a close second place.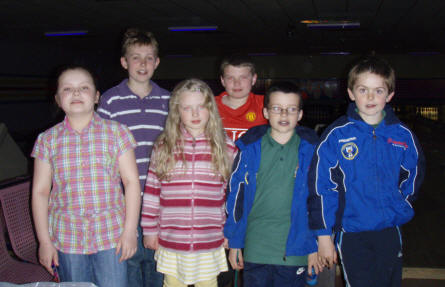 Back Row L-R Lewis & Connor
Front Row L-R Shelby Caitlin Ethan & Ben
Just a reminder that it is the 'Nintendo Wii Challenge' this Friday 13th June 7.30pm start (bring & eat) in the clubhouse.
A greater turnout would be appreciated; parents are welcome as the bar will be open
By Shelby Tyson
12 May
Tuesday 7 till 9
Last Tuesday Georgina and I got some tuition from 'Scumper' on how to sail lasers and similar boats. Naturally there was no wind but it did give us a chance to learn how to roll tack and gybe which helps the boat accelerate out of the tacks and gybes and gives you some momentum in light winds ( very useful on Saturday as there was again, no wind! ). We also learnt how to go dead down wind quickly and in general he just gave us lots of useful tips on how to sail faster. So thank you to 'Scumper' for these very useful tips.
Joe Watkins.
11 May
There was a good turnout for the Youth Squad races on Saturday and Sunday. Saturday's races nearly didn't happen due to lack of wind, but the enthusiasm of the sailors who took to the water to practice light wind sailing persuaded Officer of the Day Andy Smith to have a go at starting a race. Making their race debuts amongst the 8 starters were Ethan Dawson, Christina Tully, Ewan Clark and Rory Tower. (Rory's mum Nicole made her debut in the start boat and only forgot to wave the flags once!).
The light winds proved very tricky for everyone and it was an achievement just to be moving. The more experienced sailors - Joe, Lewis and James - led the fleet with the others having their own battles. The wind filled in at the end of the race so Andy thought there should be a second race. Excellent idea - until with about 2 minutes to go the wind died completely! However, the young sailors persisted and although Joe ran away with the race, Christina gained a very creditable 2nd place in only her 2nd race.
At Sunday's pre-race briefing, there looked to be a good wind, but then the thunder, lightning and torrential rain started. The kids seemed to want to sail in all that weather, but the OD reckoned it was too wet! After a short postponement and a 120 degree wind shift, the wind died again. However, 8 sailors went out, with race debuts for Gregory Forzell and Nicholas Morgans. Another testing day in light winds. This time Sam Hall lead the way in his laser followed by Joe Watkins in his Byte. Both were glad they had not joined the adults in their race as that fleet was becalmed. However, OD Hugh Godfrey decided to run a second race and the wind went from nothing to quite alot very quickly. Joe washed his sails a couple of times, while James in his topper was glad of the stronger winds and finished second to Sam on corrected times. Robin Crawley seemed to enjoy his couple of capsizes and Gregory recovered speedily from his first ever proper capsize. Nicholas, and Gregory did exceptionally well to sail in the strong winds.
Sportsmanship is the first rule of sailing and it was great to see it in abundance - in particular Sam giving William Coulthard some excellent coaching around the last lap of the day and James making sure Robin was ok after one of his capsizes.
At the last count there are 14 sailors in the Youth races this season. This is brilliant and we hope to see more as the season progresses.
10 May
Check out Prizes for the latest results in the Saturday series
8 May
A great start!!
Tuesday night sessions started 2 weeks ago and they seem to be very popular! On the 5pm-7pm training we've had a few complete beginners take the plunge and they seem to be doing very well.
Half have been crewing the wayfarers while the other half have given the toppers a test. Already the basic tacking and rigging have been sussed and there have been very few capsizes!!!
I have also been learning as I tested my memory in trying to drive the powerboat. A few more practices should do the trick!
WELL DONE to anyone who has been taking part or helping out.
See you next week!
Georgina
13 April
8 members of the Youth Squad completed 2 races today in very light and challenging winds. Georgina Craig and Jonathan Connor were on the water for the first time at the club this year. Robin Crawley finished his first ever races so well done to him.
The fleet was led by Sam Hall in his laser, but Joe Watkins sailed well and was only half a minute behind Sam on corrected times. There was a battle in the topper fleet with Jonathan Connor (who is used to slightly bigger boats these days), Lewis Tyson, William Coulthard and James Springell fighting for the mid-fleet places.
The main learning point this week was not to sail too close to the wind when there is very light wind. Sail off the wind a little bit and get some speed up as it is essential to have speed before trying to tack.
30 March
The Youth Squad has taken to the water for their first race much to Rhonwen's delight! The winds were a bit on the blustery side, there were some spills but many thrills. There were six boats that left the shore, five made it to the start line, and there were four finishers. It was pleasing that four of the starters had not raced more than a couple of times. Joe Watkins suffered a long capsize when his dagger board came out, but he did rejoin the race and finished.
Lewis Tyson dominated the race having led the race from start to finish, and James Springell and William Coulthard followed through to finish 2nd and 3rd respectively. The next race is in a fortnight. Perhaps the water will be a bit warmer by then!?
Check the Prizes link to see the results
Sue Tyson has organised some social events - Check out the Calendar link above. A 10 pin bowling event has been arranged for 2nd May - Please book by 18 April
23 March
The Youth Squad Sailing Programme and Sailing Instructions can be found on the Calendar and Race Info links above. The first race is on Sunday 30th March at 2pm - Next Week!. Please read the sailing instructions before then. The races in the Sailing Programme are colour coded by series. If they are not coloured it means that they are events at venues other than Bass. Also attached is some guidance on starting and finishing races, including what the flags and sound signals mean. This will be explained before Youth Squad races on Saturdays and Sundays, but if you read it beforehand you may find it easier to understand. Contact Rhonwen on rhonwenbryce@yahoo.co.uk if you have any queries.
Caroline Craig is going to be ordering some Bass hoodies. She'll take a sample down to the first Tuesday training evening for people to look at and decide if they want to order one. They will be good quality, thick hoodies selling for about £20.
You should have all received the club handbook together with Foxy Tails. I hope you have read Foxy Tails as there is an article about the Youth Squad as well as contributions from Sam Hall, Georgina Craig and Joe Watkins about their sailing and power boating exploits - well worth a read (See below)
Minutes of inaugural meeting 26 January 2008
Check out stories from our Youth Squad that were published in Foxy Tales
Clothing
Navy 'Hoodies' are available to purchase for the youth squad.
A sample 'hoodie' will be available on the first Tuesday night session, for you to see and place orders.
The 'hoodie' is a simple cotton and polyester mix. It will sport the club logo. (Apologies for the Naff mock up below!)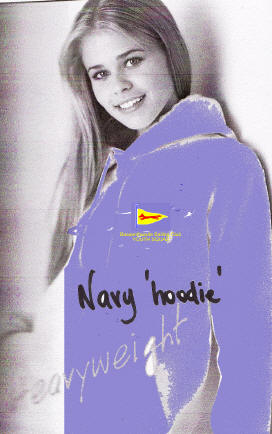 ---
Last updated 19/04/2010