Kids from 1 to 92
Well that's how the Nat King Cole song goes anyway.
Many members children came to the Club's Christmas party on Sunday 19th December. Various games were played under the watchful eye of Helen Knowles (and her whistle) and during the party tea a quiz was set to test children and parents alike.
Santa Claus braved the elements, left Rudolph and the gang somewhere on Skiddaw and hitched a lift on a passing rescue boat to arrive at the Club by water. (The rescue boat's bits froze up in the conditions - so spare a thought for Rudolph!!).
Santa lead a few Christmas carols before handing out early presents.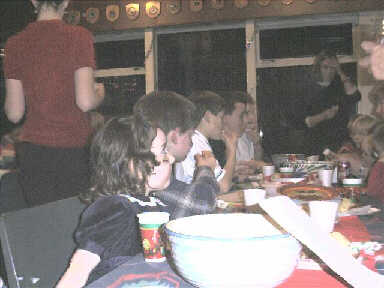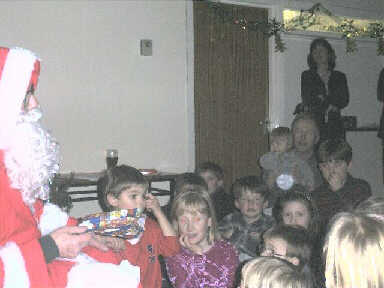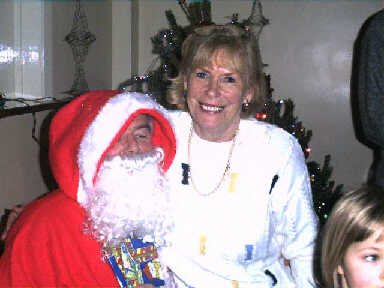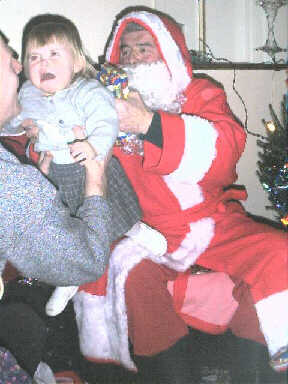 Annual Dinner
Some pics from the annual dinner held on 27th November at the Greenhill Lodge Hotel - Sorry about the quality
| | | |
| --- | --- | --- |
| | | |
| | | |
| | | |
| | | |
Almost 100 members and guests enjoyed the dinner and dance together with speeches and prizegiving - see results for details. Pat DeRedder's toast to the Bassenthwaite Sailing Club was responded to by Club Commodore William Carruthers. The toast to the prizewinners was given by Andrea Preston and responded to by Steve Hannah. All four speeches were well received. Vice commodore Miles Middleton gave an impromptu vote of thanks to William Carruthers and wife Dee recognising the difficulties that had been encountered and overcome during his term as Commodore.
Bonfire Night
Well it almost wasn't! The Grounds and Jetties committee were ahead of themselves, having part built the bonfire a week early. However, the best laid plans of mice and men... A week of showers topped off by the heaviest short-term rainfall that West Cumbria has suffered for many years resulted in the bonfire becoming marooned and it started to float away! However, a miniature version was built, lit, and enjoyed by those attending.
The evening itself was cold and calm but very clear - an excellent night for an astronomy lesson although there appeared to be a few rogue shooting stars! The display comprised a wide selection of fireworks, some of which were very impressive.
Arabian Night!
This year's themed evening was set in Arabia and several visitors taking part in the Viking Trophy enjoyed an authentic meal in the setting of our converted bedhouin tent!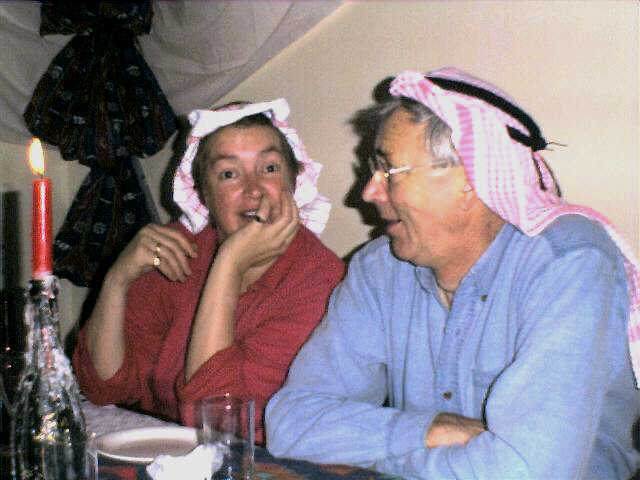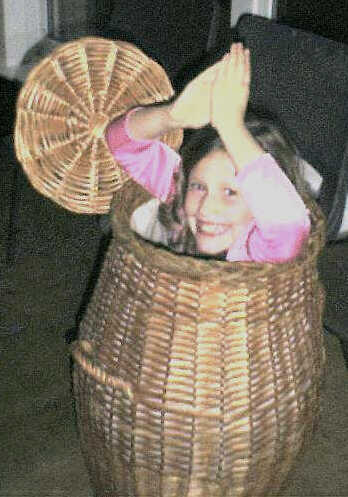 ---
This site was last updated on 27 February, 2000