Annual Dinner 2003
One that slipped through the Net!
Or do I mean a pair?
Annual Prizegiving
This year's prize giving was a time for celebration, not least because of the club's many successes throughout the season - World Championships, National Championships, open meetings, Area Championships, Southport 24 hour race, ......but because England won the Rugby World Cup!
This year's club champions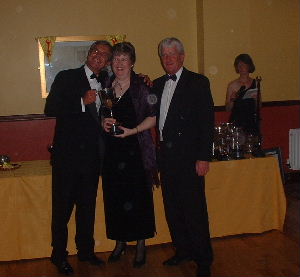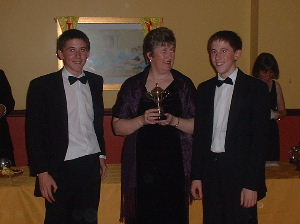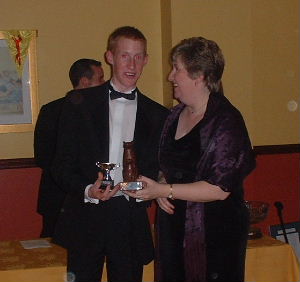 The Roger Pryde Memorial Trophy for up and coming juniors was awarded to Phil Hodgkins
for his wide ranging successes throughout the year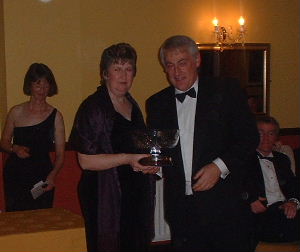 The Consistency Trophy was awarded to Mike Moore for consistently
making the 200 mile round trip to race on our wonderful lake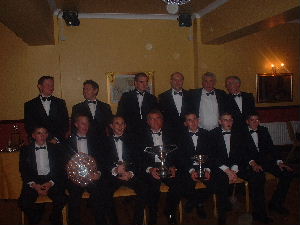 The winning 24 Hour Race team

FLYING 15 CLUB CHAMPIONSHIP 2003

PN  Helm           1   2   3   4   5   6   7   8   9  10 Pts
 1  S BEATTIE    DNS DNS   8   6   5   7 DNS   9   4 DNS  39
 2  I CAMPBELL     8   5   6   2 DNS DNS DNS   5   2   4  30
 3  M MOORE        6   3   5   3   3 DNS   5   3   1   2  25
 4  W CARRUTHERS   3 DNS   4   4 DNS   5   1   6   3 DNS  25
 5  P BURNELL      5   1   2 DNS   2 DNS   3   7 DNS   1  20
 6  W SOMERVILLE   1   2 DNS DNS   1   4 DNS   1   6 DNS  15
 7  K JAMIESON     4 DNS   1 DNS DNS   2   2   4 DNS DNS  13
 8  M MIDDLETON    2 DNS   3 DNS DNS   3 DNS DNS DNS DNS   8
 9  J SOMERVILLE DNS DNS DNS   1 DNS DNS DNS   2 DNS DNS   3
10  S BROOKES    DNS DNS DNS DNS DNS   1 DNS DNS DNS DNS   1

 6 series to count out of 10 series sailed


LASER CLUB CHAMPIONSHIP 2003

PN  Helm           1   2   3 Pts
 1  I MACPHERSON   3   5   3  11
 2  M MONTGOMERY   1   3 DNS   4
 3  R BRYCE      DNS   2 DNS   2
 3  J FERGUSON   DNS   1   1   2


 3 series to count out of 3 series sailed


GP14 CLUB CHAMPIONSHIP 2003

PN  Helm           1   2   3   4   5   6   7   8   9  10 Pts
 1  P SMITH       14   8   8 DNS DNS   8  14  15 DNS DNS  67
 2  R HODGKINS    11  10   4 DNS   4   6  12  11   5   5  55
 3  H GODFREY     12 DNS DNS   5   6   5  11  13 DNS   6  53
 4  A HODGKINS    10   5   1 DNS   3 DNS   8   5   3 DNS  34
 5  D LAWSON       6   4 DNS DNS   8 DNS   4   3 DNS   9  34
 6  M FAIRLAMB     7   2   5   3   5 DNS  10 DNS DNS   2  32
 7  R DAWSON       9   3   6 DNS DNS DNS   1   2   2   7  29
 8  S SPENCE     DNS DNS DNS DNS DNS DNS   9  10   1   4  24
 9  D NICHOLSON  DNS DNS DNS DNS DNS   2   7   8 DNS   3  20
10  W ROBERTS    DNS DNS DNS   1 DNS DNS   6  12 DNS DNS  19
11  V BELL       DNS DNS DNS DNS   2   4 DNS   9 DNS DNS  15
12  A SMITH        4 DNS DNS DNS DNS   3 DNS   6 DNS DNS  13
13  N LEWIS        1   6   3   2 DNS DNS DNS DNS DNS DNS  12
13  N CURRIE       5   7 DNS DNS DNS DNS DNS DNS DNS DNS  12
13  L CONNOLY    DNS DNS DNS DNS DNS DNS   5   7 DNS DNS  12
16  J SEDGWICK     8   1   2 DNS DNS DNS DNS DNS DNS DNS  11
17  J RILEY      DNS DNS DNS DNS DNS DNS   3 DNS DNS   1   4
17  P DELORME      3 DNS DNS DNS DNS   1 DNS DNS DNS DNS   4
17  M CLAYTON    DNS DNS DNS DNS DNS DNS DNS   4 DNS DNS   4
20  J COWAN      DNS DNS DNS DNS DNS DNS   2 DNS DNS DNS   2
20  J LEAKE        2 DNS DNS DNS DNS DNS DNS DNS DNS DNS   2
22  J WATKINS    DNS DNS DNS DNS   1 DNS DNS DNS DNS DNS   1
22  J WATKINS    DNS DNS DNS DNS DNS DNS DNS   1 DNS DNS   1

 6 series to count out of 10 series sailed


MIRROR CLUB CHAMPIONSHIP 2003

PN  Helm           1   2   3   4   5   6   7   8   9  10 Pts
 1  T SMITH      DNS   2   2   4   5   2   6   6   4 DNS  27
 2  N WOOD         2   4   3   7   3   1   3   4   2   4  25
 3  M CHAPPEL      4   1 DNS   5 DNS   4   4 DNS DNS   1  19
 4  S WATSON       1 DNS   5   3   2 DNS   1   3   1 DNS  15
 5  ROB SMITH    DNS DNS DNS DNS DNS DNS   2   2 DNS DNS   4
 5  L COOK       DNS DNS DNS   1 DNS DNS DNS   1 DNS   2   4
 5  I FLETCHER   DNS DNS   1   2   1 DNS DNS DNS DNS DNS   4

 6 series to count out of 10 series sailed

Prizewinners 2003

Club Championship

Flying Fifteen:

Brackenrigg Trophy

Scott Beattie

John Somerville

Anderson Trophy

Ian Campbell

Tony Fisher

Wheel Trophy

Mike Moore

Ian Smith

Maurice Dalton Trophy

William Carruthers

Alan Smith

Lawson Trophy

Ian Campbell

Tony Fisher

Laser:

Arthur Carr Trophy

Ian Macpherson

T.S.B Trophy

Martin Montgomery

GP14:

Elwyn Banner Mendus Cup

Phil Smith

Mike Cowan

Philp Prize

Richard Hodgkins

Philip Hodgkins

Twiname Prize

Hugh Godfrey

Rhonwen Bryce

Hatrick Prize

Dave Nicholson

Sarah Nicholson

Grant Cup

Richard Hodgkins

Philip Hodgkins

Kirkpatrick Prize

Richard Hodgkins

Philip Hodgkins

Beginners Prize

Dave Nicholson

Sarah Nicholson

Mirror:

Club Championship

Tim Smith

Rob Smith

Excalibur Trophy

Nick Wood

N/A

Flying Fifteens :

Albert Bates Retirement

Mike Moore

Ffandangle

Bryson Helm Trophy

Mike Moore

Ffandangle

Dawson Trophy

Mike Moore

Ffandangle

Jimmy Lancaster Memorial Trophy

Mike Moore

Ffandangle

Paul Carruthers Memorial Trophy

Mike Moore

Ffandangle

Winter Series 2002

Mike Moore

Ffandangle

Easterly Trophy

Scott Beattie

Jocks Lover

Flying Free Trophy

Scott Beattie

Jocks Lover

Jack Pot

Scott Beattie

Jocks Lover

Mellor Mug

Scott Beattie

Jocks Lover

Ullock Mug

Scott Beattie

Jocks Lover

Blencathra Trophy

Ian Campbell

Too Long in the Toof

Morgan Trophy

Ian Campbell

Too Long in the Toof

Transom Trophy

Ian Campbell

Too Long in the Toof

Auditors Trophy

Paul Burnell

C.S.S.A Trophy

Paul Burnell

RNLI Pennant

William Carruthers

Silkworm

Scarness Cup

Wendy Somerville

Skippy

Denton Trophy

Pete Nuttall

Ffair Dinkum

Calvert Trust

Tony Fisher

Too Long in the Toof

Flying Enterprise

Not Awarded

Lasers :

Barf Trophy

Ian Macpherson

Killindini

Dodd Trophy

Ian Macpherson

Killindini

Foxtail Trophy

Ian Macpherson

Killindini

Isel Cup

Ian Macpherson

Killindini

Personal Handicap Pursuit

Ian Macpherson

Killindini

Spring Holiday Trophy

Ian Macpherson

Killindini

Evening Plate

Mark Somerville

Still Nightly

Ladies Race

Rhonwen Bryce

Ruby Tuesday

GP14s :

Aitken Cup

Phil Smith

Bean Bantered

Autumn Cup

Phil Smith

Bean Bantered

Bass Tankard

Phil Smith

Bean Bantered

McMillan Cup

Phil Smith

Bean Bantered

Mustard Pot

Phil Smith

Bean Bantered

Starters Prize

Phil Smith

Bean Bantered

Celebrity Glass Trophy

Hugh Godfrey

Jalfrezi

Harney Hetherington Trophy

Hugh Godfrey

Jalfrezi

Lyne Tankard

Hugh Godfrey

Jalfrezi

Max Joule Memorial Trophy

Hugh Godfrey

Jalfrezi

Commodores Prize

Dave Lawson

Layla

Ross Wear Helm

Dave Lawson

Layla

Stables Prize

Dave Lawson

Layla

Graham Cup

Rich Hodgkins

F

Spring Cup

Rich Hodgkins

F

Bowes Sinclair Trophy

Robin Dawson

Last Chance

Bowman Trophy

Robin Dawson

Last Chance

Banana Stakes

Val Bell

New Era

Night Jar

Val Bell

New Era

Night Jar B

Mike Turner

Smoove

Crews Race

Phil Graham

Last Chance

Mirrors :

Bates Series

Tim Smith

Wonfortu

Mirror Mug

Tim Smith

Wonfortu

Orsova Cup

Tim Smith

Wonfortu

Round Table Tankard

Tim Smith

Wonfortu

AB Series

Nick Wood

Black Arthur II

Image Tankard

Nick Wood

Black Arthur II

Singlehanded Trophy

Nick Wood

Black Arthur II

Windfall Trophy

Nick Wood

Black Arthur II

Kirk Helmsman Trophy

Sue Watson

Last Buoy

M. Series

Sue Watson

Last Buoy

Peel Pot

Sue Watson

Last Buoy

Red Sails Trophy

Mike Chappell

Eclipse

Reflection Trophy

Mike Chappell

Eclipse

Handicap Fleet :

Handicap Saturday Series

Steve Hunt

RS400

Handicap Sunday Series

Steve Hunt

RS400

Tinker Trophy

Simon Davis

RS200

Sandra's Salver

Janis Halliday

RS400

Bassenthwaite Burgee

Rory Yardley

Laser Vortex

2003 October Series

John Halliday

RS400
---
This site was last updated on 07 February, 2004